2017-2018 | Vancouver, BC
McElhanney was hired by Stantec for this planned renovation project to relocate multiple commercial retail units (CRU's) and modernize the food court. Record as-built drawings for this building were incomplete and deemed unreliable by the architects that needed a dependable model from which to base their design.
McElhanney provided:
Laser scan survey of the full interior including plenum spaces. Survey of this space was conducted outside of mall hours and completed in 4 nights.
LOD 300 Models, including all Architectural/Structural components and Mechanical/Electrical/Piping (MEP) Services.
The scans and models were used to create a virtual reality experience.
This Virtual Reality experience shows the potential of this technology and its benefits for project proposals, public forums, marketing, stakeholder engagement, and more. Laser scanned data, CAD models, and 3D models were used along with programming to create this fully immersive experience were users can move in the food court, swap flooring to view alternate designs, remove furniture to get a better sense of the space, hide ceiling tiles to view utilities, and BIM information of commercial spaces.
For the Waterfront Centre, these scans and models will not only be used for the upcoming renovation project but will also be used to update Lease Outline Drawings and confirm the lease areas on record. This existing condition 3D model is the foundation of their Building Information Model (BIM) and will be maintained as tenant improvements occur over time.
Virtual Reality
The video below illustrates a walk-through of the Waterfront Centre food court in virtual reality.
The screen-shots below were taken during the virtual reality walk-through.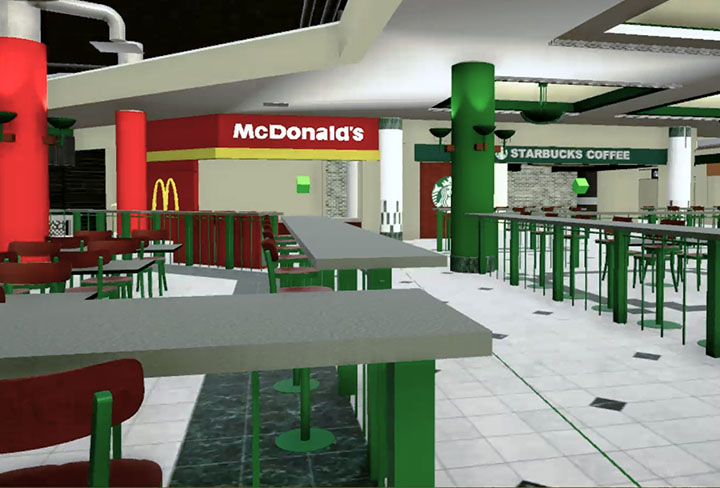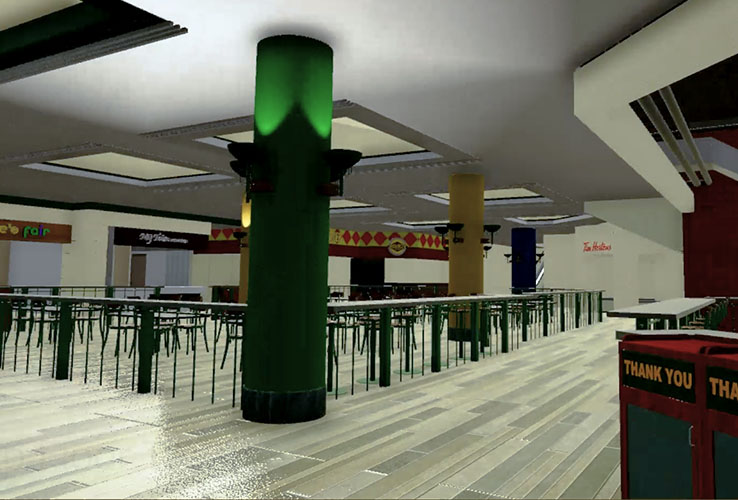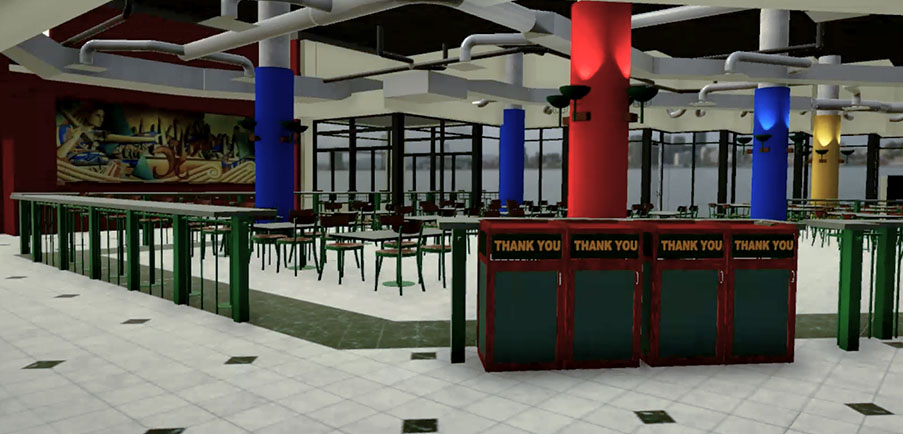 Fly Through
The video at the top of this page shows the Waterfront Centre Food Court Fly Through.