Last night was a big one for McElhanney at the annual Association of Consulting Engineering Companies of BC (ACEC-BC) Gala. Recognizing outstanding accomplishments across BC's consulting engineering community, the ACEC-BC Awards for Engineering Excellence are classified under seven categories. This year, McElhanney entered projects under two of them: Transportation & Bridges and Soft Engineering. To our delight, two of our entries were recognized with an Award of Excellence and an Award of Merit in their respective categories:
Kitimat Flood Risk Assessment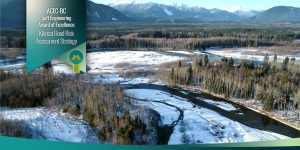 Winner: Award of Excellence in Soft Engineering
Client and Project Owner: District of Kitimat
The journey to sustainable flood risk management does not involve a single project. Rather, it calls for a staged plan that identifies needs and responds to them in a thought-out way. By providing flood mapping in tandem with hazard mapping and a risk mitigation option review, the Kitimat Flood Risk Management Strategy is a model for communities to turn mapping and data analysis into real-world strategies that span structural and non-structural solutions.
We'd also like to congratulate our client on this project, the District of Kitimat, for receiving Client of the Year Award! 
Highway 91/17 Upgrade Project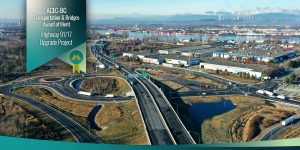 Winner: Award of Merit in Transportation and Bridges
Client and Project Owner: BC Ministry of Transportation and Infrastructure
The Highway 91/17 Upgrade project upgraded the existing Highway 91, 17, and 91 connector corridors to improve travel safety and efficiency. These highways are major trucking routes, connecting the Port of Vancouver's Roberts Bank terminal to key trade and industrial facilities and forming a critical link to national and international markets. The completed project improves commercial and local travel in the area and reduces conflicts between commercial vehicles and other traffic. Despite the project right-of-way constraints, McElhanney's design provided four interchanges within 1.2km – an area typically required for one.
At McElhanney, we are constantly striving for ways to improve the communities in which we live and work. We are proud to see our efforts recognized with these prestigious awards.
Congratulations and thank you to all the staff, subconsultants, clients, and industry partners who contributed to these amazing projects!
Learn more about the ACEC-BC Awards Gala here.