From May 26 to 27, sixteen hockey and eight soccer teams gathered in Kelowna to support the Ronald McDonald House BC & Yukon charity through friendly competition and fundraising.  
Over $86,000 was raised for the charity through this year's 14th Annual McElhanney Cares Ronald McDonald House Charity Tournament. 
To participate in the tournament, each team made a minimum donation of $1,000 and then fundraised independently to maximize their fund-raising contribution.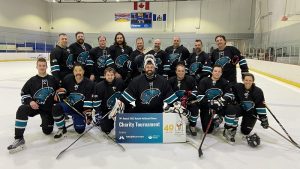 100% of the proceeds from the tournament go towards supporting the families at Ronald McDonald House BC & Yukon. "The McElhanney Cares Hockey and Soccer Tournament is one of the largest community fundraising events of the year where 100% of the proceeds directly benefit Ronald McDonald House BC and Yukon," says Richard Pass, CEO, at RMH BC. "A third of the 2,000 families we serve annually come from the interior which is why this tournament connects with so many families locally." 
Since it began, the McElhanney Cares Ronald McDonald House Charity Tournament has raised over $700,000 for RMH BC. The money raised at this year's tournament will help to cover the cost of 567 nights of comfort at the House for families facing the serious illness of a child. 
"While each team was playing for the coveted trophy, it was evident that we were all united by one goal – raising money in support of an incredible cause," recalls Kayla Gavan, a member of one of McElhanney's two tournament soccer teams. "I am so proud to be part of a company that has taken it upon itself to organize this event so well."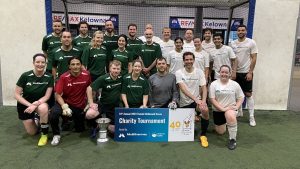 Fast facts about Ronald McDonald House BC & Yukon: 
Ronald McDonald House BC and Yukon is a home away from home for families who must

 

travel to Vancouver for their child's major medical treatment.

 

RMH BC can accommodate 73 families each night and serves approximately 2,000 families

 

each year.

 

RMH BC is 575 steps from BC Children's Hospital, which keeps families close to treatment

 

and their seriously ill child

.

Staying at RMH BC can save families in your community over $6,000 per month in

 

accommodation, food, gas and other expenses.

 

Over 250 regular volunteers help run the House and its programs including: yoga, gardening,

 

massage, movie nights, LEGO Robotics, and more.

Some of RMH BC programs like the Family Meals program, and Art & Music therapy, help

 

families cope with the challenges they face, both financial and emotional.

 

2023 is the 40th anniversary of Ronald McDonald House in British Columbia.