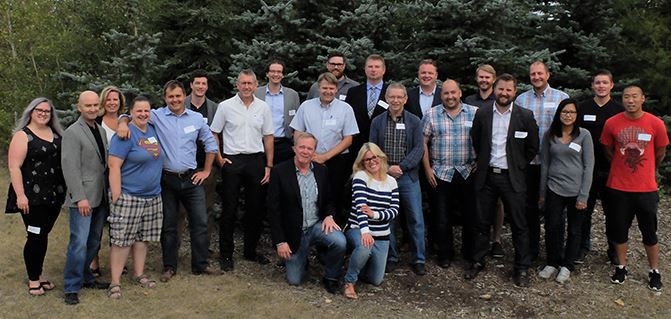 In the coming months, as McElhanney and SarPoint Engineering begin to work closely, both will gain access to new expertise, resources and growth opportunities and will be looking to combine their strengths to provide an unmatched service to clients throughout their suite of offerings.
McElhanney President, Bruce Winton commenting on the merger said, "After working closely with SarPoint on various projects, we quickly realized the synergies that our firms could create by merging. With the combination of McElhanney's horsepower and SarPoint's innovation, we're poised to become an undeniable force in the industries where we operate. One of the most exciting aspects for us at McElhanney is that we'll now have access to some of the best subject matter experts in the 3D space and in emerging technologies. We're thrilled to have SarPoint and their team on board and are looking forward to showing our clients what we can do together."
SarPoint Director, Robert Radovanovic said, "I'm very excited about this opportunity for the SarPoint Engineering team to find a bigger home within McElhanney Land Surveys. Since 2011, SarPointer's have been remarkably effective in creating new ways of doing business in the areas of Laser Scanning, 3D Modelling and Environmental Assessment and we've developed a reputation as being the 'go-to' people when clients have a difficult problem to solve. Moving into McElhanney provides us with the high-quality resources and broad market opportunities we need to significantly expand the scope of our activities, and, in turn, allows McElhanney to integrate and leverage our novel solutions throughout their business lines. With everyone rowing in the same direction, I'm confident that this is truly a situation where the whole is greater than the sum of its parts and I look forward to helping McElhanney build new ventures across Canada and beyond."
About McElhanney Land Surveys
McElhanney Land Surveys has been providing surveying, mapping and GIS services in Canada for over 100 years. Throughout their successful history they've built a reputation for being the service provider of choice in the resource industry and have developed a wide variety of specialized offerings that they're are proud to provide to all of their clients. Throughout nine branches, McElhanney offers services in Saskatchewan, Alberta, British Columbia, and Newfoundland serving local communities across Canada.
About SarPoint Engineering
Since 2011, Alberta-based SarPoint Engineering has become known for creating new ways of doing business through the application of groundbreaking technologies in Mapping, Surveying and Environmental Assessment. Continually developing their reputation as an innovator and thought leader, they've grown rapidly and become the 'go-to' people for clients who have a difficult problem to solve. With offices in Calgary, Edmonton and Sarnia, ON, SarPoint provides a client focused experience for everyone they work with.