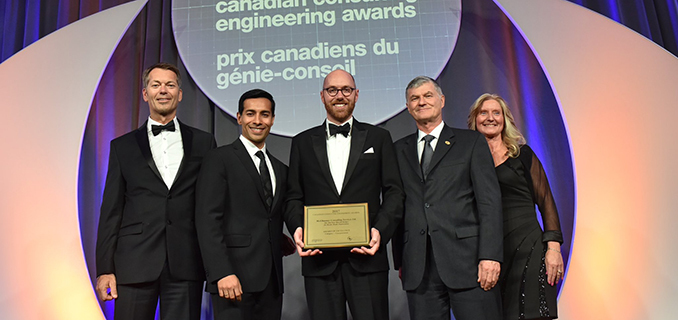 This week has been rewarding for McElhanney projects and employees. McElhanney was recognized with three awards at the Canadian Consulting Engineering Awards gala in Ottawa on October 24. The Atal Setu took home an Award of Excellence in the Transportation category, as well as the new Ambassador's Achievement Award, which was presented to a project executed outside Canada that best showcases Canadian engineering expertise. The Atal Setu is the first cable-stayed bridge procured under a design-build contract in India by the Indian Ministry of Defence. The bridge traverses the River Ravi, and connects the states of Punjab and Jammu & Kashmir, creating a critical physical, financial, and social link for the people living in the communities on either side of the river. The honor merits technical innovation, the importance of constructability, sustainability, and reduced environmental impact in design. McElhanney was responsible for the detailed design, construction engineering, and site support.
At the same event, the Allen D. Williams Scholarship Award was presented to Regina Engineer, Michael Walker. The award is presented each year to one young employee of an ACEC member firm who has demonstrated involvement with, or contribution to, priorities identified by an ACEC Member Organization or ACEC itself. Michael has been an active member of provincial, national, and international YP networks, infusing each activity with energy and enthusiasm. This scholarship provides Michael with the necessary support to attend the 2018 FIDIC conference in Berlin.
Earlier this week, on October 20, Surrey Engineer Tijana Smiljanic was honoured with the 2017 Young Professional Award from Engineers and Geoscientists BC (formerly APEGBC) at their annual President's Awards gala held this year in Whistler. Tijana was well-deserving of the award, as an exceptional engineer with more than 10 years of design, leadership, and project management experience.