Since opening in 1979, our Lloydminster office has grown to 19 people.  Here's a glimpse at the work our Lloydminster branch does and how the employees get involved locally – whether its coaching speedskating or raising money for local charities.
Lloydminster is Canada's only provincial border city and has the world's largest border markers. These four, 100-foot high markers stand on the boundary of Alberta and Saskatchewan and represent four themes: oil & gas, the Barr Colonists, agriculture, and First Nations & Métis. Lloydminster has a range of indoor and outdoor sports facilities, more than 35 parks, and serves as the shopping district for nearby towns. With more than 25,000 residents, Lloydminster is a small city with a big heart!
Our branch office is technically on the Alberta side and has 19 surveyors, engineers, and support staff. The team is active in the community, coaching basketball and speedskating, and have organized Special Olympics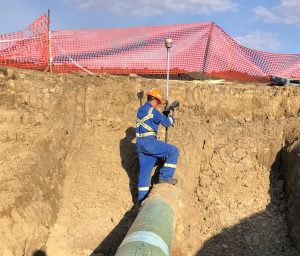 events and have supported the Kinsmen/Kinettes Club to raise funds for residents with specialized medical needs.
Key Services
Engineering Surveying
Legal Surveying
Recent Projects
Oil & gas is the key market for this branch, with Husky being the main client.
Staff Moments – So, what do our staff have to say about living and working in Lloydminster?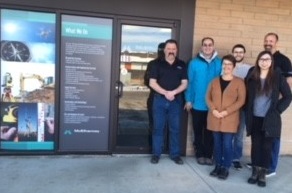 "Both my wife and I were born in small towns; her in central Alberta and me in Nova Scotia. I worked in Edmonton for the first eight years of my career with McElhanney but jumped at the chance to move to a smaller centre. Lloydminster offers most of the amenities of a big city but still has that small town feel. You can pretty much get anywhere in the city in 15 minutes No huge rush hour, not a ton of traffic, and close to lake country! It's perfectly located halfway between Edmonton and Saskatoon. I have really enjoyed raising a family and working for McElhanney in Lloydminster."
– Jim Sweeney, Branch Manager
"I've worked at McElhanney for almost 17 years.  I really appreciate it here because of the family feeling, to know that I am cared for at work."
– Terra Beek, Administrator
Want to get in touch with the team? Click here to contact our Lloydminster office.