McElhanney is thrilled to announce that children and families at Surrey Memorial Hospital's Children's Health Centre now have a beautiful new outdoor space to heal, play, and relax. Over 80 members of the community – including donors, hospital staff, and McElhanney team members – attended the grand opening on July 9.
McElhanney donated funds and employees volunteered time to design and construct a new courtyard play area with assistance from industry partners, including B.A. Blacktop Ltd. and Eurovia British Columbia Inc. Through this initiative, McElhanney employees proudly give back to their community and commemorate 50 years of successful business operations in Surrey.
The idea to celebrate the branch's 50 year milestone with a project to benefit local children and families came from Surrey Branch Manager Paul Deol after his son had treatment at the Children's Health Centre. The story of the inception was made into a video by the Surrey Hospital Foundation.
At the grand opening, the Foundation's president & CEO Jane Adams commended Deol and McElhanney for working with Surrey's pediatric care team to create a space to make spending time in the hospital easier for children and families.
"For me, this project conjures up a line from the Dr. Seuss children's book The Lorax," Adams said. "The line is 'Unless someone like you cares a whole awful lot, nothing is going to get better. It's not'. That someone was you, Paul, because you and your team cared 'a whole awful lot.'"
She said the playground work inspired the Foundation's fundraising campaign to expand and transform the inside of the 17-year-old Children's Health Centre; these improvements are estimated at $15 million.
With access directly from the Children's Health Centre, the new playground is designed to be a fun space where kids and siblings can either let off steam or play quietly. There's also seating to allow parents to relax and get some fresh air. The special features of the new playground include:
Customized wood sculptures and furniture by professional carver and HGTV personality Ryan Cook
Soft flooring for safe play
A place to shoot pucks and baskets
Stackable foam play blocks
An interactive playwall
New lighting throughout
Seating and landscaping that can be appreciated by parents
Thank you to all the McElhanney volunteers, and the following contractors and suppliers who donated time and materials to make this playground a magical place for children and youth undergoing care at Surrey Memorial Hospital.  We couldn't have done this with you!
B.A. Blacktop and Eurovia British Columbia
Sandpiper Contracting
Rotary Club of Semiahmoo
The Block Foundation
Eagle West Crane
Langley Concrete Group
Finning Canada
Thurber Engineering
Brandt Tractor
Varing Marketing Group
SMS Equipment
Matcon Civil Constructors
Centra
B&B Contracting
DMD & Associates
Mac's II Agencies
SLS
Trans-Western Electric
Hunter's Garden Centre
Burnco Landscape Centre
Dolon Group
The Hockey Shop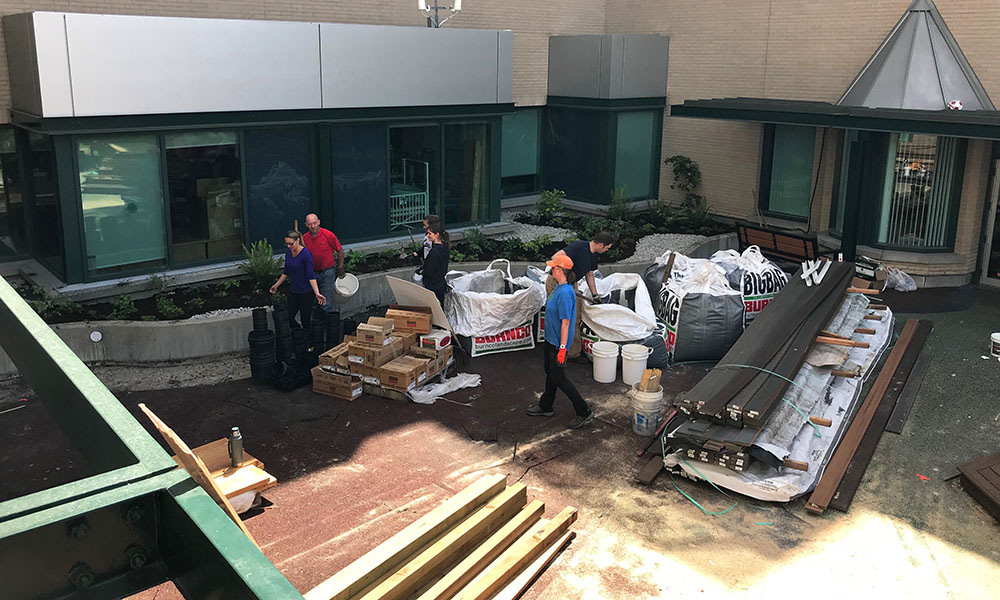 Playground during construction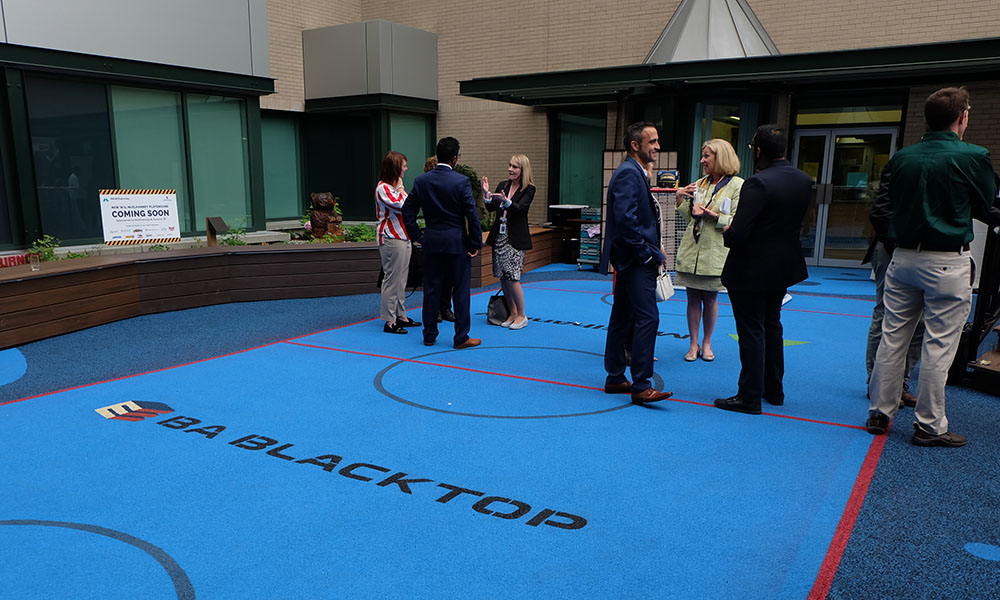 Playground after construction